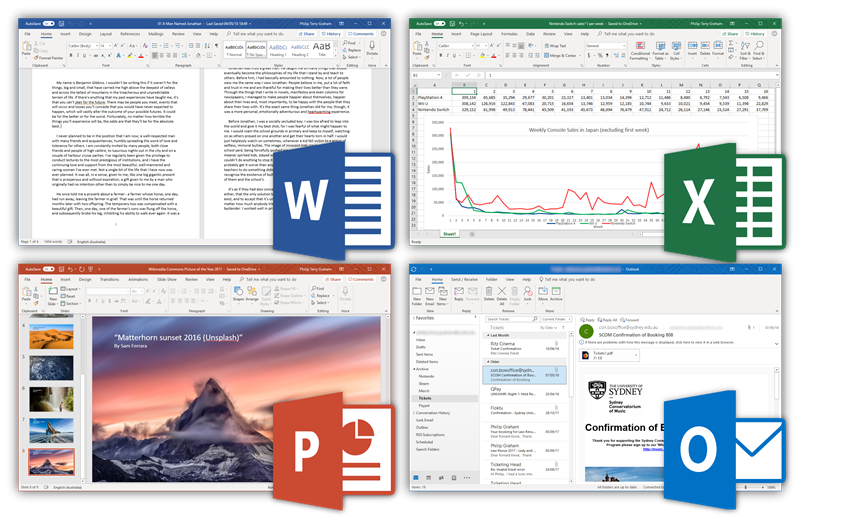 Microsoft Office hosted in the cloud
With Microsoft 365, you get Word, Excel, PowerPoint, Outlook, and more. Work anywhere with apps that are always updated.
Why choose Microsoft 365?
Microsoft 365 comes with a full list of tools that will make you and your colleagues more productive! Because you've been using Office applications for many years, it's easy to stick to the same old habits. For example, you've probably memorized all kinds of keyboard shortcuts. Once you've adapted to a changed interface, you'll want to use your favorite application in the same familiar way.
Well, you may be missing new features that can revolutionize the way you work! Microsoft wants businesses to increase productivity with its products, and with the recent release of Office 2021, collaboration has been pushed to another level – see each other's changes as they happen with real-time coauthoring. Share directly from the application, thanks to the integrated sidebar.
Generate greater productivity with Microsoft 365
Productivity is a great word that management-consultant types love to use. In the real world though, productivity can be summed up in a simple question: Can you do my job easier or not? Microsoft has invested heavily and spent a tremendous amount of time trying to make the user and administrator experiences of Microsoft 365 as easy and simple.
Easy access to Office apps from anywhere is essential to improving sales, productivity, innovation, and customer engagement.
Your business doesn't stop when you walk out the door, and your software shouldn't either. Microsoft 365 help you stay productive wherever you need to be. Stay mobile and easily access email, calendars, instant messaging, file sharing and the other Office apps and tools you trust on desktop – with a 99.9 percent uptime guarantee. Microsoft 365 lives in the cloud, so you get the benefits of better collaboration without the hassle of manually managing software updates.
Working anywhere from any device
You get the Office Web Apps with your Microsoft 365 subscription, so you can work on your cloud files from any up-to-date Web browser on an Internet-connected computer. You don't have to install the Office software on the computer.
You also get access to Office Mobile Apps so you can use Word, Excel, PowerPoint, Outlook and OneDrive directly from your smartphone or tablet while you're on the move! Download them from your Android or iOS device store.
Maximum privacy and control of your data
Microsoft does not own or use your data for any reason. In fact, if you cancel your Microsoft 365 subscription, Microsoft will only retain your data for a maximum of 90 days before purging. This retention period gives an organization time to retrieve their data. Microsoft has taken strong measures to limit access to customer data (including from Microsoft personnel and subcontractors). Microsoft uses service-side technologies that encrypts all data at rest and in transit.
With Microsoft 365, you'll obtain a financially backed 99.9% uptime SLA; Office 365 offers phenomenal reliability and security. Microsoft 365 was designed for organizations looking to obtain all the benefits of cloud-based email, security, calendaring, and operational efficiency.
One of the biggest advantages of Microsoft 365 is the consistency. Microsoft 365 maintain functional and navigational consistency despite providing new capabilities in each update.
Encryption at every level
Microsoft 365 will encrypt communication going to and coming from the client. Whether the client uses Android, Apple, Outlook, Windows, Mac, or a web browser.
Automated maintenance & updates
Microsoft 365 is the fastest evolving solution on the market. Microsoft automatically provides security patches and product enhancements without any intervention from users or administrators. Automated updates mean less time maintaining and more time growing.
Microsoft 365 uses the defense-in-depth approach to provide physical, logical, and data layers of security
Learn more about Office 365:
Frequently asked questions
Which cost do I have to consider for the implementation of MICROSOFT 365?
The basic installation of the system is included in the service cost. Other implementation costs such as configuration, employee training, data migration, detailed adaptation, development will vary depending on the size of the implementation and the usage of the system.
Get in touch with us here for a detailed quotation.
How long does it take to complete the implementation of MICROSOFT 365?
Implementations with basic apps can take somewhere between 1 to 4 weeks, this will vary depending on the type of business and on a 'case by case' basis. Another part of the Office 365 implementation is the customization – this is the part where the estimation solely depend on the modifications you want.
Can MICROSOFT 365 be connected to other third-party systems and solutions?
Yes, in our live demo you can test Microsoft 365
and assess it's capabilities. Our development team has already made connections to well known systems such as Sage, Odoo, Amazon, EBay, WooCommerce, PayPal, QuickBooks, MailChimp, and many more.
Can I access MICROSOFT 365 from a mobile device when I'm out the office?
Yes, you can interact with your business right from your phone. Securely access and handle documents, spreadsheets, etc on any device, share presentations, etc from the Microsoft 365 app to keep your team on the same page – the Microsoft 365 app is available on all platforms.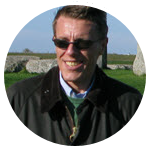 We help businesses by facilitating access to professional web solutions and services – boosting performance with tailored consultancy, we're covering all the steps from assessment to implementation. We work closely with our clients – ensuring the most optimal solution is selected for their business.
Lars J. Croff


Founder and CEO of
How we help
your business?
Our three-step Microsoft 365 consultancy process:
MICROSOFT 365
INTEGRATION SERVICES
€
99
Per Hour (excl. VAT)
We propose a Microsoft 365 configuration

We implement the Microsoft 365 configuration

We introduce the Microsoft 365 solution

Minimum purchase is 10 hours at €99/h (€990).
MICROSOFT 365
SUPPORT & MAINTENANCE SERVICES
€
899
Per Month (excl. VAT)
Remote assistance & resolution

Response time: 2 to 4 hours

If support is needed outside hours it costs €99/h.
Call us at +46 (0)764-668 600