The #1 Solution for

CRM & ERP

Sales

Purchases

Invoicing

Accounting

Inventory

Reports & Analysis

Projects

Human Resources

Documents
Odoo is an all-in-one management software that offers a range of business applications that form a complete suite of enterprise management applications targeting companies of all sizes.
With the
Odoo CRM

Quick Start
from
Eazy-Office
you get a
'ready-to-login'
CRM solution
in less than 48 hours
– hosted in
Amazon Cloud (AWS)
.
(This solution can also be customized and integrated with your current processes.)
Why choose Odoo
Quick Start
Odoo is a fully integrated and customizable business management suite. Odoo integrates CRM, sales, project management, manufacturing, inventory, accounting, HR management, marketing activities, customer support tools and other business needs into a single software solution.
Odoo can be adapted to all companies, regardless of their size or sector of activity –
it evolves with your needs.
Accessible from any device. It is a modern software, which follows current trends in the use of new technologies.
Odoo is a fully integrated software that offers simplicity
in everyday use –
and it is very intuitive.
Manage your business in one place
Main Features of Odoo
Quick Start
STAY CONNECTED TO YOUR CUSTOMERS​
With real-time messaging to enhance collaboration. Get a quick overview of what's going on in your team. See when a colleague logs a call or send a quote. Share ideas and files in real-time and catch-up things you missed when you were away. Schedule activities based on your sales scripts: calls, meetings, mailing, and quotations.
Showcase your products and services
Professionally showcase your products and services. Send clear and complete quotations to your prospects. Convert quotations into sales orders with a single click, or let the customer sign off on it with a simple electronic signature. Invoice customers based on time and materials, easily record contracts and track invoicing phases.
Make smart purchase decisions
Use price lists and references to make smarter purchase decisions based on promotions, quantities and special contract conditions. Keep track of a product availability in your supplier's stock and check your order status. You can even base your sales price on your supplier's prices. Save time by using Odoo to synchronize operations between different companies or warehouses.
Better organize your warehouse
Track every stock move with Odoo's unique double-entry inventory system. Improve performance and process time. Get the most efficient stocking method and improve all your internal operations. Use order points and automated RFQs to make your supply chain more efficient than ever. Odoo's inventory has no stock input, output or transformation-all operations are stock moves between locations.
Manage Invoices, Bills and Expenses
Create and send professional invoices and receive payments online. Send reminders to your debtors in just a few clicks. Simply set-up and automate follow-ups to get paid more quickly. Automatically create invoices from sales orders, delivery orders or base them on time and material. Easily create your earnings report, balance sheet or cash flow statements.
Insights you need to make smart decisions
Make smarter decisions with real-time dynamic reports that you can save and share with anybody. Keep key information at your fingertips with custom dashboards. Make your own definition and analyze your invoicing by product, customer, salesperson, etc. Create detailed reports and graphs in any format you like without the need of an external program. Get statistics on any numbers in your company, from fuel costs in projects all the way to revenues in sales teams, and with inventory, and everything in between.
Centralize all your HR information
Oversee all important information for each department at a glance. Restrict visibility of sensitive information to just HR managers, or make other information public for all employees to see such as employee directory. Receive alerts for any new leave requests, allocation requests, applications, appraisals, and more. Keep track of the employee hours worked and sort by project, client, or tasks.Integrated accounting automatically posts reports based on time spent in projects providing real-time data.
Monitor performance & staff availability
Schedule your teams across projects taking employees' holidays into account. Plan ahead for upcoming projects with forecasts based on comparable projects and estimate deadlines more accurately. Compare forecasts with real time-sheets for increased profitability. Add quick notes or attach files to any task and stay connected to your team, communicate real-time through live chat.
Become a paperless company
With Odoo Documents, you can easily share, send, categorize, and archive scanned documents. You can also generate business documents like vendor bills, tasks and products sheets for manufacturing. Take advantage of a fully integrated approval, control and validation process, with activities, chatter and action rules to make sure everything gets done by the right person at the right moment. Share files and public folders with your clients.
More information about Odoo
Odoo is for most businesses
Solutions for every size company, across every industry, in every part of the world
Thousands of businesses have already made the move from products like QuickBooks, Microsoft Dynamics, Sage and SAP (+many more) – over to Odoo's premium business management suite.
How does Odoo compare with other solutions?
Click the button to test drive and take a look inside the Odoo ERP and CRM software. Online live demo helps you to get overall experience before you proceed for real time project.
Founded in 2005 by Fabien Pinckaers. With the "On-premise" offer, Odoo is the most installed business software in the world.
It is used by over 7.000.000 users worldwide ranging from startup companies (1 user) to large enterprises (300,000+ users).
Mobile apps for Android and IOS
Odoo Mobile is a native mobile application available on Android and IOS. With nearly 50.000 users around the world it's by far the most used and probably the most advanced mobile app for Odoo.
You can download the Odoo mobile app to your smartphone/tablet here: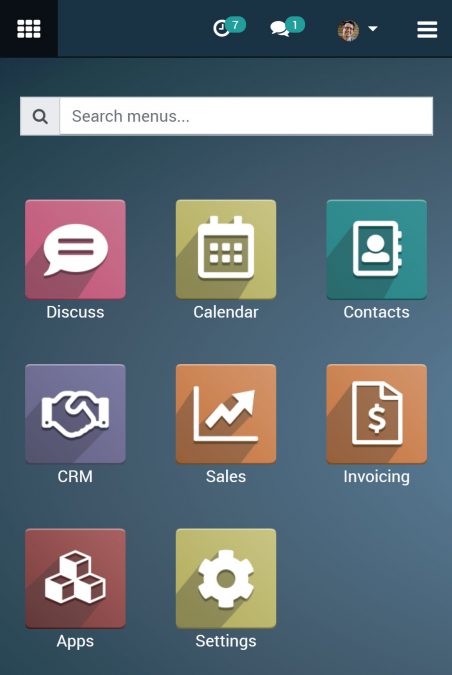 Power BI Business Intelligence integrated with Odoo (add-on)
better business decisions across your organization with MICROSOFT Power BI
Power BI is a business analytics solution that lets you visualize your data and share insights across your organization, or embed them in your app or website. Connect to hundreds of data sources and bring your data to life with live dashboards and reports.
See your data
in new ways
Connect, model, and then explore your data with visual reports that you can publish and share. Power BI integrates easily, so you get up to speed quickly and work seamlessly with existing solutions.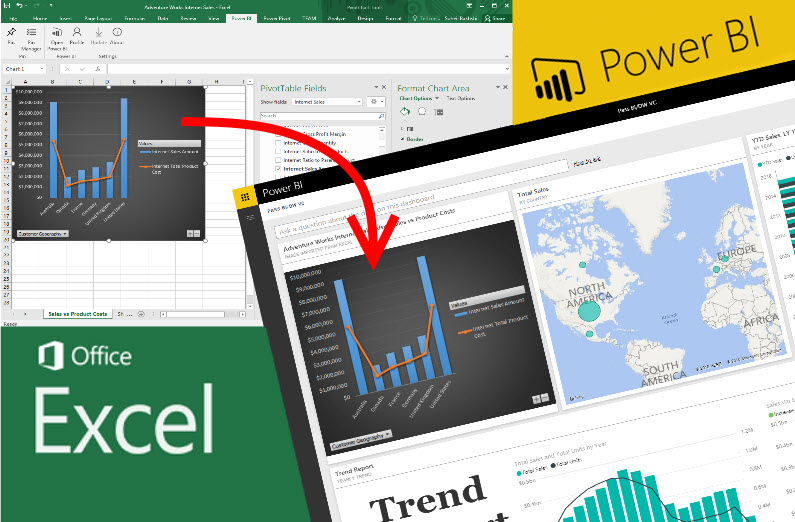 Unparalleled
Excel integration
Anyone who's familiar with Office 365 can easily connect Excel queries, data models, and reports to Power BI Dashboards—helping to quickly gather, analyze, publish, and share Excel data in new ways.
Access data from hundreds of supported on-premises and cloud-based sources, such as Dynamics 365, Salesforce, Azure SQL DB, Excel, and SharePoint. Ensure it's always up to date with automated, incremental refreshes. Power BI Desktop enables you to develop deep, actionable insights for a broad range of scenarios. Then share insights across your organization to fuel intelligent action.
Accelerate decision making when everyone has access to insights
Enable anyone, whether they're inside or outside your organization to view all Power BI content including paginated and interactive reports without purchasing individual licenses.
Choose the deployment option that works best for your organization – with on-premises reporting through Power BI Report Server, and your choice of geographic region for cloud deployment.
Find answers fast with industry-leading AI
Simplify how you analyze and share large volumes of data. Take advantage of the latest advances in Microsoft AI to help non-data scientists prepare data, build machine learning models, and find insights quickly from both structured and unstructured data, including text and images.
Create a data-driven culture with business intelligence for all
Get self-service analytics at enterprise scale Reduce the added cost, complexity, and security risks of multiple solutions with an analytics platform that scales from individuals to the organization as a whole.
Help protect your analytics data
Gain leading sensitivity classification and data loss prevention capabilities to help keep your data secure and compliant – even when it's exported.

Get started quickly with hundreds of visuals
Start visualizing your data in seconds with an extensive library of data visualizations. Browse hundreds more in AppSource. Each visual has been tested and approved by Microsoft to integrate seamlessly with Power BI and provide valuable insights. Click
here
to view more visuals.
Commonly Asked Questions about our Power BI Integration Services
Call us at
+46 (0)764-668 600
or contact us
here
if you have any questions regarding Power BI Integrations & Implementations.
Eazy-Office has broad experience in Power BI integrations. We meet with you and your team to get a sense of your goals and aspirations. From that, we formulate an overall idea, a proposal and direction.
Join millions of Odoo users
Advanced
(1 User* + 8 Apps)
* Additional user license(s) can be purchased at € 22 per account/month.
Solution customization's can be purchased on a 'per hour' basis at € 149 /hour.
We will demonstrate the system and assess your Odoo system needs
We've had exponential growth without having to increase headcount, and we've been able to handle that with a system like Odoo. We see the complete business picture quickly and easily with Odoo.
We use Odoo to deliver a holistic, omni-channel experience that drives customer satisfaction and repeat business while streamlining our operational business processes.
Odoo gives us the ability to be flexible. Odoo integrates e-commerce, inventory control, order processing, CRM, financial reporting and other functions in a way that really fits our business needs.
Frequently Asked Questions
Which costs do I have to consider for the implementation of Odoo CRM

Quick Start

?
The basic installation of the system is included in the service cost. Other implementation costs such as configuration, employee training, data migration, detailed adaptation, development will vary depending on the size of the implementation and the usage of the system.
How long does it generally take to complete the installation of Odoo CRM

Quick Start

?
Implementations with default modules can take somewhere between 24 to 48 hours, this may vary depending on the type of business and on a 'case by case' basis. Another part of the Odoo implementation is customization – this is the part where the estimation depends on the modifications you want.
Can Odoo CRM

Quick Start

be integrated with other third-party systems?
Yes. Our development team has already made connections to well known systems such as Power BI, Magento, Amazon, EBay, WordPress, WooCommerce, PayPal, MailChimp, and many more.
Can I access Odoo CRM

Quick Start

from a mobile device when I'm out of the office?
Yes. With the Odoo Mobile app you can access messages, contacts, notes, track your inventory, manage your meetings at your fingertips and you can use them everywhere to keep watch on our business. Odoo Mobile is a native mobile application available for Android and iPhone.
All services in one place
Technology by leading brands
Call us at +46 (0)764-668 600